First of all, some economic rationale: As you certainly know, a few years ago most TV manufacturers began to produce 3D TVs. This is a pretty booming market as shown by the table below (units in millions):

Shipments of 3D-capable LCD panel screens jumped 124% in the second quarter 2011 to 5.2 million units, of which 4.9 million units were earmarked for LCD televisions, according to a new report.
source
The 3D TV market size is expected be more than US$ 100 Billion at the end of 2014
source
Everything looks excellent, but: "A total of just over 50 3D Blu-ray discs were released/have been announced for the U.S. in 2011, according to 3D Movie List.com--compared to more than 2000 2D Blu-ray releases."
source
In other words 3D content is still relatively limited and there is not enough variety in the 3D market to be able to showcase and deliver the true potential of 3D TVs. This makes it the number one reason why consumers are not as eager to upgrade their existing TVs to the new 3D enabled version. Therefore I think this is a unique situation - manufacturers MUST push their 3D TVs to consumers but they need content with a wow! effect to achieve this purpose which does not exist at the moment. Existing movies and cartoons definitely do not have such a "wow" effect. Even consumers who purchased 3D TVs often cannot buy exciting content in the stores because there is simply very little available on the market. The buyers of 3D TVs want to feel good about their purchase which means that they need content that is able to truly amaze them and their family and friends. I think that short demos with bright, awe-inspiring stereo effects are completely suitable for this purpose.
I have spent the last several months developing technology and have finally produced a 3D BluRay disc that can demonstrate the full capabilities of 3D TVs and will significantly raise awareness and consumer involvement with 3D products. The quality of the stereoscopic effects on this disc is far superior to anything currently existing on the market today, and I am confident that it isn't like anything you've ever seen before. Although this content is for presentation and promotion of 3D TVs, it also is a new kind of art as well as an independent product involving 3D animation and music that is truly delightful and entertaining.
For promotion and distribution of this product it is ideal to enter into a contract with one of the largest TV manufacturers such as Sony, Samsung, LG or Panasonic each of whom produces millions of devices every year. If this disc were to be included with every TV set, it would produce fantastic returns on investment. On the other hand this disc can also be sold in retail locations as regular stereoscopic animation.
I've developed the technology, I have a product, I see that the market needs this content and that the competition in the market is virtually nonexistent. The next step is marketing and promotion but I definitely cannot do it alone. Therefore I'm open to cooperation. If you are interested - let's meet and I'll show you the content. A brief description can be found here:
www.sanbase.org
but you should see this on a real 3D TV to get the full effect. I'm sure you'll be impressed and that you've never seen anything like it before!
[ add comment ]
( 5 views ) |
permalink
|


( 3.1 / 206 )
---
3D content is still relatively limited, there is not enough variety in 3D content on the market that is able to showcase and deliver the true potential of 3D TV's. The 3D quality of my content is far superior to anything currently existing on the market today, and I am confident that it isn't like anything you've ever seen before. The first disc is currently completed with the second one is on its way.
It is a cover:
[ add comment ]
( 7 views ) |
permalink
|


( 2.8 / 35 )
---
Click here:
Stereo
[ add comment ]
( 6 views ) |
permalink
|


( 2.9 / 394 )
---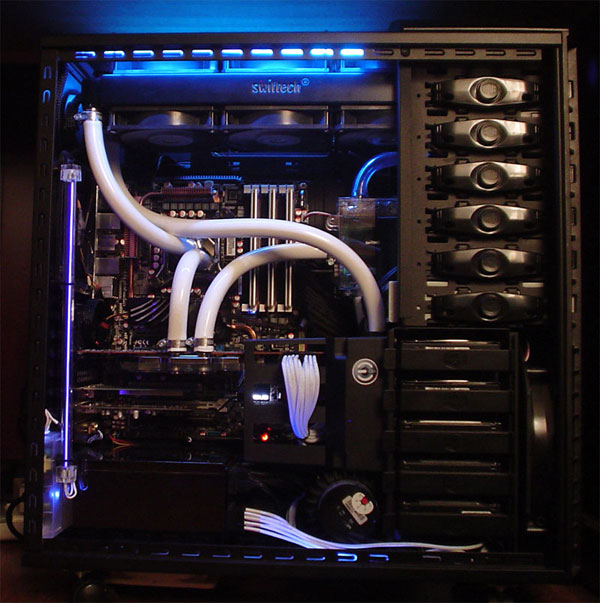 Case: HAF 932
MB: Asus P6T Deluxe
Videocard: GTX480
water cooling
and 8.5TB of space !!!
I hope my work will go faster now...
[ 1 comment ]
( 20 views ) |
permalink
|


( 2.9 / 697 )
---
Computer games and 3D films have a finite duration, they have an end. After the action is finished they stop or repeat again. Technically, during the creation of 3D content the work of the artist (the 3-D specialist or animator) most closely resembles that of a sculptor. The artist creates three-dimensional models of objects which are then seen from different angles and in different positions.
Dynamic painting on the other hand consists of infinite, never-repeating video sequences generated in real time instead of being produced in advance. The basic advantage of dynamic painting consists of the unpredictability of the image. The spectator can always see something new that has never been displayed before. 3D films or computer games do not have that advantage because all of their visual factors are programmed in advance.
2. Is it possible to call a dynamic painting a `screensaver'?
Yes it is possible. But it will be quite an expensive screensaver.
3. Could a dynamic painting be considered the creation of an artificial intellect because of the fact that it is not drawn nor morphed by the artist but more by the computer?
This is not true. If adhering to this logic, singing is the only true type of music and everything that the musician makes using technical devices (all acoustic instruments including electronic ones) can be considered a non-human mechanically composed sound. But for some reason nobody thinks that the electronic synthesizer itself composes music. The role of a computer in dynamic painting is no greater than the role of a synthesizer in music. It is just a device that a person is using to create something.
4. A piece of art is considered to be a material object like a canvas with paint, or a sculpture, etc... Dynamic painting is a piece of soft ware running on a computer and tv set. How is it possible to call DP a work of art if you can copy the program and then purchase a computer with a tv in any shop? What would be an original piece and what would be a copy?
In the same way it is possible to say that music is not a work of art because it does not exist in a material context. What is the original of a piece of music? Is it the notes written by the composer on paper, or the same notes published and recorded then played again and again with various improvisations? Digital recordings of music can be duplicated without loss of quality but nobody doubts that music is art.
A work of art it something created by a person in the time of great influence by their emotional condition. It is not important by what mean that influence is transferred. Music uses the acoustical channel, painting – the visual.
Originals and copies are a creation of the business world of art. For the businessman the importance of the "originality" of paint smeared on a canvas is enough to warrant a price of 20 million dollars while precisely the same canvas but without the certificate of authenticity would cost only 20 dollars. At the end the viewer does not look at the certificate but at the picture itself and if its emotional and aesthetic qualities are precisely the same, what difference does it make whether it is original or just a copy?
Dynamic picture can truly be copied without loss of quality. There are no distinguishing differences between a copy and an original as this is impossible in the computer world. Perhaps this should be considered a benefit rather than a disadvantage of this kind of art.
5. The same dynamic picture can produce thousand of "screenshots" without any efforts from the artist. Does this bring down the status quo and creativity of traditional artists?
Before the development of photography artists spent many patient hours struggling to copy and perfect still images. In the 19th century a mechanical device was created which did the same thing. In what measure did the occurrence of a photo discredit painters? There certainly were some problems with this, but now photography has become an independent type of art and there are no conflicts between the two.
At any moment the dynamic picture can be stopped and transformed into a static one. It is then possible to print the image on canvas with very high resolution. This print will be unique as precisely the same image will never be repeated in the original dynamic picture. This process is very similar to photography where it is necessary to find (and wait for) an interesting moment which you then capture. It does not demand a lot of effort but patience and good taste are required.
It is necessary to understand that the dynamic picture does not create at all times absolutely different images; it is only a variation of the SAME picture. Therefore all static images will be variations of the same plot. They can strongly differ in details but the general plot, the composition and the aesthetics will be constant and the same.
6. Do dynamic paintings remind us of children's toys such as the "kaleidoscope"?
It does remind us of it. The kaleidoscope allows us to create a million combinations of images by means of the elementary system of three mirrors and several splinters of color glass. It is ingenious that a kaleidoscope is able to create symmetric patterns from a finite set of colors. The dynamic picture reminds us of a kaleidoscope because it also generates millions of variations of images but with this their similarity comes to an end.
7. Where can dynamic pictures be used?
Like any traditional painting, a dynamic painting can be used as interior decoration. A dynamic picture on a wall favourably differs from a static one because it is always new and different. Instead of the same picture you have an infinite quantity of variations. At the same time, any specific image on the dynamic painting display can be made static until the transformation is told to start once again. In a dynamic picture clouds float and trees move. It is really a live representation.
Aside from home decoration these pictures can also be used in waiting areas such as a doctor's reception room or a hotel lobby to help pass the time.
The dynamic picture is an excellent tool for relaxation and meditation. The images vary slowly allowing a viewer to enter a stress-free state or a type of "trance". It is reminiscent of watching clouds in motion. The changing images put the imagination to work helping the viewer to relax and rest.
Here is an example of a dynamic picture that is exceptionally traditional:
http://www.sanbasestudio.com/demo/planet_earth.html
[ add comment ]
( 6 views ) |
permalink
|


( 2.8 / 582 )
---
| 1 | 2 | 3 | 4 |
Next>
Last>>